Alcosystems' solution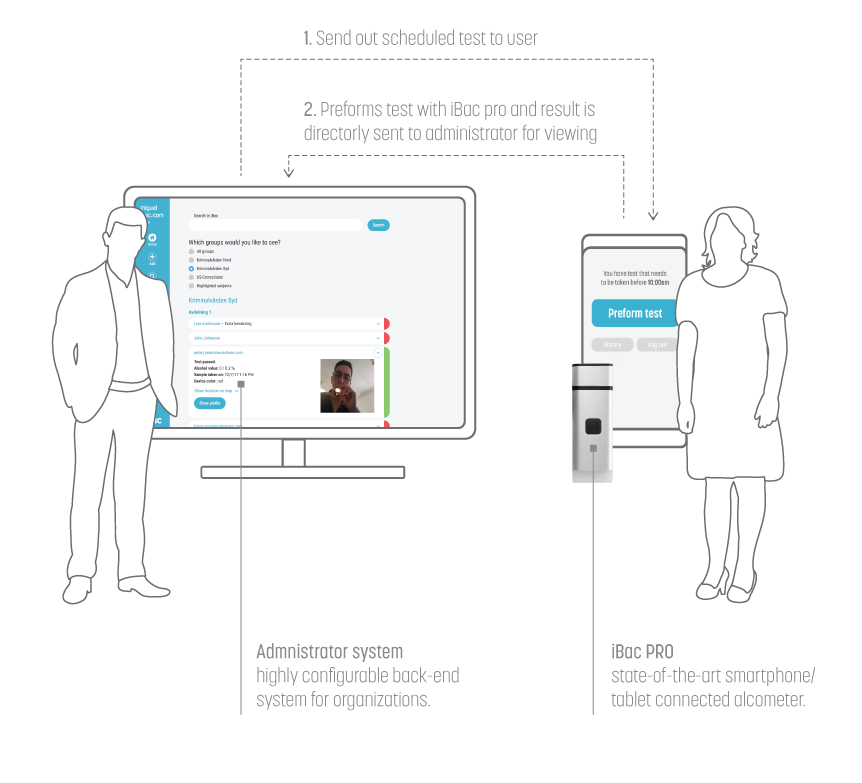 Back-end system
The main system through which all testing and user data, as well as testing procedures, are processed and configured by one or several administrators.

iBac Pro Application
For smartphones (single option or equivalent depending on plan) or stationary computer/tablet (group option.)

iBac Pro unit
Portable smart breathalyzer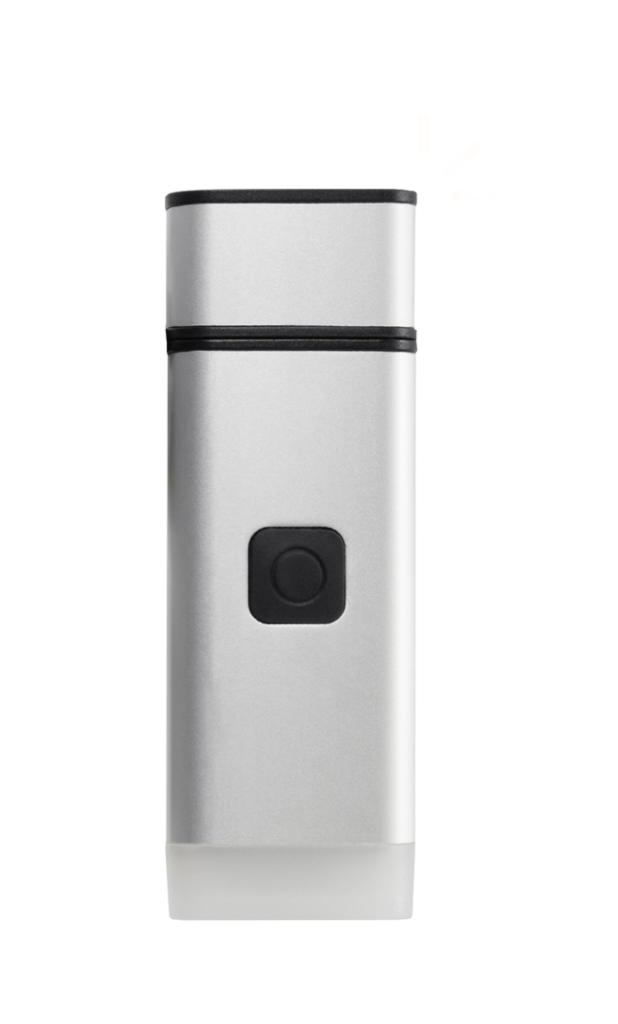 Hardware
iBac Pro
Portable breathalyzer for remote individual use. iBac Pro is one of the smallest breathalyzers on the market thanks to its unique fuel cell technology that enables extremely accurate test results. Working via Bluetooth, the user can connect the unit to their smartphone for a test without Internet access – the test result is saved in the iBac Pro Application for upload to the back-end system when the phone is back online.
The device is developed with a user-centered, environmentally friendly and long-lasting usage in mind, built to work with current and future generations of smartphones.
iBac Pro Group
iBac Pro Group is for group testing. It consists of an iBac Pro unit connected to a stationary device (computer or tablet), making it the testing station at an office or recovery home for group use.

Accurate
The same level of accuracy as law enforcement units

Wireless
Connect via Bluetooth, send test data to smartphone

Secure
Colour-coding photo function to verify that the intended user takes the test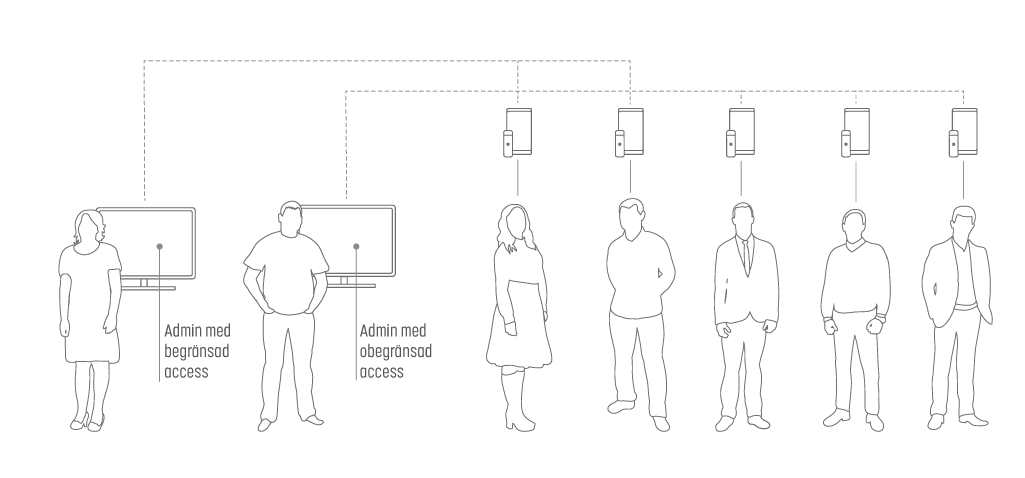 Single user option
The single user option connects the back-end system to individual iBac Pro units carried by users. The administrator sends a signal to the user via the smartphone application when a test is due (tests can be scheduled or randomly performed depending on Plan).
Single option iBac Pro unit
Individual tests via iBac Pro unit
Administrator sends signal to user smartphone via iBac Pro application
Administrator confirms identification through colour-coded ID photo
Group user option
The group user option connects the back-end system to a stationary computer or tablet which is connected to an iBac Pro unit, functioning as the "testing station". The administrator creates user profiles and sends an SMS to the user's phone when a test is due (tests can be scheduled or randomly performed depending on Plan). The user must be present at the testing station to perform the test.
Group stationary iBac PRO testing station
Administrator sets up test schedules and call-to-test SMS
Shared stationary iBac PRO test station
Optional user anonymity
Patent
Alcosystems Solution is protected by patents in the EU, USA, Japan, China, India and South Korea. Alcosystems holds several patent families worldwide, enabling the company to leverage on its proprietary technology in order to offer the best and most accurate e-health, care and monitoring solutions on the market.
Protecting the Alcosystems Solution primal technology is our main patent that enables displaying the body's alcohol metabolism process wirelessly.
Alcosystems core business is based on a strong and multifunctional R&D team focused on taking the industry to the next level through a symbiosis of digitality, sustainability, and flexibility.
Identification and authorization of administrators and users
Administrators log into the back-end system with their username and password.
Users log in through a guide that shows up for first-time users in the iBac Pro mobile application. In this stage, the user is requested to fill in their company key identification and their mobile number.
Two-step identification is possible if required by administrator
Tasks in the form of access, add/remove user, logging on, reports or erasing data
Three main users – "Super-Administrator", "Administrator" and "User". These access levels are adjustable in order to fit your operative as well as security needs.
You decide which role/person will have the clearance to add/remove users. You can also log the information about users or other internal info.
Every piece of data in the back-end system is also accessible as structured reports, a service multiple clients are using today.
All pieces of sensitive information can be erased by an administrator. Upon ending an engagement with Alcosystems, we can erase the account as well as all pieces of related data.
Data confidentiality upon breathalyzer test
Every time the test is performed, the data is sent from the mobile application to our cloud solution. The transfer of data takes place through an encrypted HTTPS protocol for highest possible security. The server also sends an SMS that works as a notification on whether the test was approved or not, without any additional information.
Server location
Our servers are located within EU borders, primarily on Ireland (this can be adjusted to the clients' needs).
Alcosystems data storage
Data is primarily stored on Alcosystems cloud servers and is totally isolated from public access. Smaller pieces of data such as which user is logged on, phone number and the number of tests left before calibration can be stored on the users iBac or smartphone.
Sensitive data storage on the iBac Pro smartphone application
Sensitive data is only accessible to selected administrators of the user account.
Integrity
Testing an employee for alcohol use is a sensitive issue. The user's integrity is always of highest importance to Alcosystems. Because of this, Alcosystems is the only actor that can see that the intended user/right identity has been tested  – and thus confirm this to the administrator. Identification is ensured through colour-coding photo which matches the intended users pre-assigned profile.